Restored
Chappell
This 1930s English Chappell baby grand piano in a compact 4'6" case has been refinished in white due to recent demand. This cute and compact baby grand would tuck prettily into many rooms. Elegant plain tapered legs and clean lines mean that it would sit comfortably in either a contemporary or period setting. An ideal student piano with a striking look.

Bring your piano back to its best
Call our team of experts now
Free delivery and installation
All acoustic pianos are delivered to a ground floor location (with no steps) and installed free of charge within 30 miles of our premises. If your delivery is more than 30 miles from us, we will provide a highly competitive quote upon receipt of all details of the move. New Danemann pianos include free delivery to mainland UK. Other new pianos price on application.
Accessories (stools, keyrings and so on) do not include delivery, but postage can be arranged to mainland UK for a fee. If you live outside the UK, including Republic of Ireland, we work with trusted experienced partners to fulfil deliveries and we are happy to supply a quotation upon request.

Upstairs delivery
In the event that your new piano needs to be delivered upstairs (including exterior steps) we would ask for photographs of the access to be emailed our sales team ([email protected]). We will then prepare a highly competitive, no-obligation delivery quote for you. In some local cases we may request to come and view the access to ensure your chosen piano will fit round tight corners in a staircase, for example.
All moves are fully insured and every care will be taken to ensure the safety of your piano and your home and its contents.

William Young Pianos Ltd guarantees all second-hand pianos for a minimum of 2 years unless specified otherwise at the time of purchase.

New pianos are covered by manufacturers' guarantees which will be specified in the listing as these vary.
Our guarantees cover defects in parts or workmanship. They do not cover tuning or minor adjustments that can be done with a tuning. Accidental or deliberate damage (and normal wear and tear) are also excluded, as is any damage caused by the environment in which the piano is kept. We are always happy to advise if required.
Frequently asked questions
What is restoration?
There is of course a significant difference between repair and restoration, and the definitions of both always depend on the individual piano.We undertake numerous repairs on every kind of piano imaginable. With over 4,000 working parts (many of which are made from wood, as well as consumables such as tapes and springs in the actions) there are dozens of common repairs. If these are isolated and the rest of the piano remains in good condition, many small repairs can be done by an experienced tuner/technician at the same time as a tuning. Tom our tuner undertakes many minor repairs while on the road and will always try to achieve this where possible. However, some repairs are so significant that a piano has to be brought into the workshop, but they're still only required on a particular area of the instrument.When it comes to restoration, it's all about bringing a piano back to its previous standard, and the term is generally used to mean work that encompasses all areas of the piano. Restoration is a very time consuming and specialist job, but hugely rewarding. Whether the work is worth doing depends on the original quality and construction of the instrument. When a piano was not built to high standards in its day and now needs significant work, we will always explain when it's not economical to undertake particular work. However, many owners still require us to restore their piano, particularly when it's been a family piece for generations.When a piano has succumbed to age and the environment or treatment it's received through its life, its overall condition and usefulness decline considerably. Perhaps the casework has become damaged; parts missing; the finish stained; the action has started rattling, or the keys aren't working properly. Very often, pin blocks, pins and strings can reach the end of their useful lives, meaning that it's become impossible to tune. However, it's rare for a piano to be so far gone as to be impossible to restore - although it's common for the work needed to be so extensive that it's not strictly economical to undertake. If you're intending to keep the piano, consider any sentimental value of this particular instrument against the cost of purchasing a comparable piano. If you intend to sell or give away the piano, our advice is generally not to do more work to it than basic tuning and maintenance.We are always careful to keep as much of the original fabric of the instrument as is feasible, while ensuring that all necessary parts are replaced or refurbished to create optimum longevity for the piano. Respecting and preserving signs of a piano's life while ensuring that it continues as an important part of life for future generations, is always a balancing act. We work closely with clients to ensure that we tread as lightly as possible, while bringing back your piano's original appearance and voice to the greatest extent that we can.
Other gems from our showroom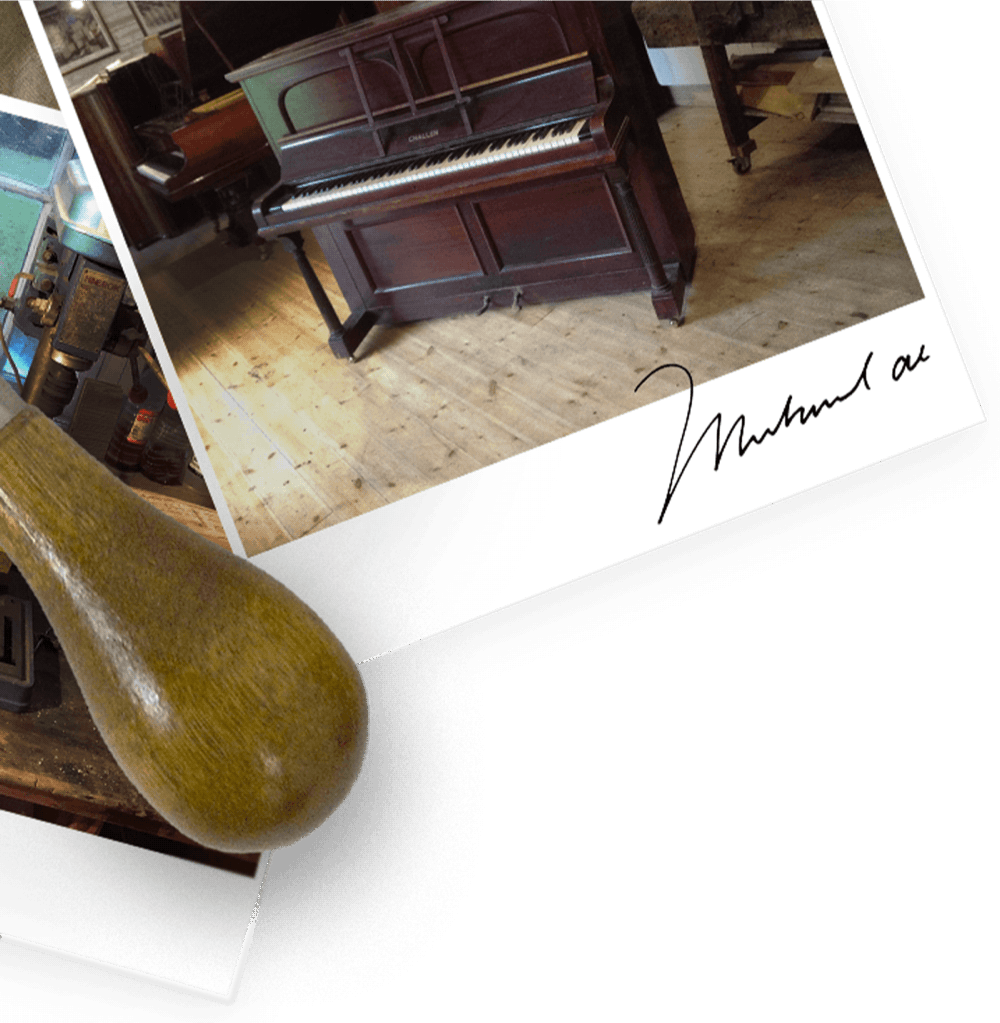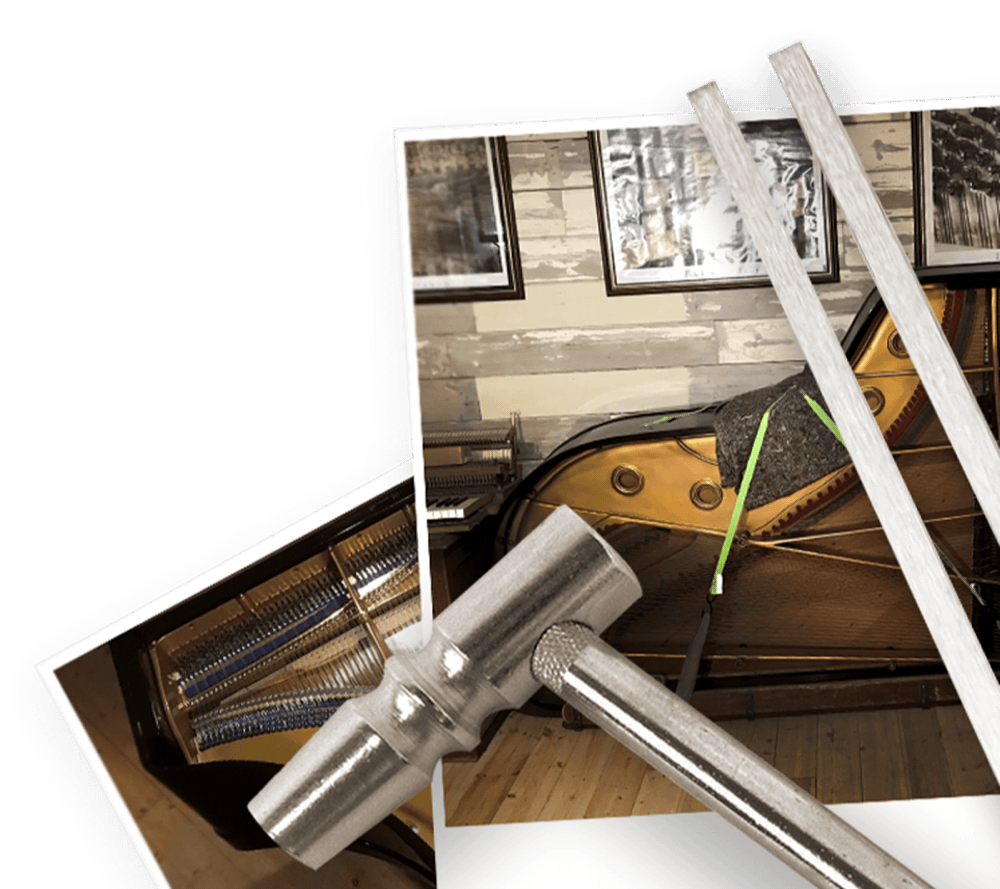 The Scrapbook
Pianos we've worked on, from cottage uprights to concert grands